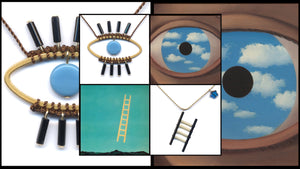 Introducing Dreams
Our newest collection is based on our dreams and how they can transport us to other worlds, influencing our waking hours.
We were inspired by dream symbols and dream artworks stemming from well known artists such as Georgia O'Keeffe, Salvador Dali and Rene Magritte.
Dreams are fantasies, portals, escapes, and strange underworld imaginings. They often surprise us with unexpected results. They are furtile ground for creativity and the imagination. In this collection, we play with representing dream symbols - rainbows, ladders, keyholes, teeth, bats and snakes, just to name a few of the things that populate our subconscious.